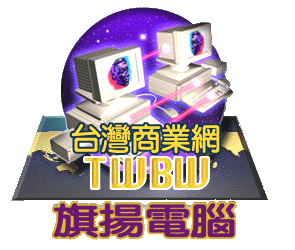 Welcome to Taiwan Buiness Web
Taiwan Business Web provides on-line information for leading manufacturers, importers and exporters in Taiwan.
These resource of buyer guide is specifically for use by importers and other business organizations engaged in sourcing from Taiwan.

This Web is continually being updated and expanded. If you don't find what you are looking for this time, please visit again later.



TWBW is optimized for Netscape 3.0 and Internet Explorer 3.0b


---
If you have any comments or questions regarding the content of this home page, please contact us at...
-- Taiwan Business Web --
http://www.twbw.com.tw
To request FREE catalog please call us at 886-2-5061317 or just send us E-Mail to ...
twbw@mail.twbw.com.tw
---
-- Copyright 1997 Unipex Computer Co. All rights reserved --